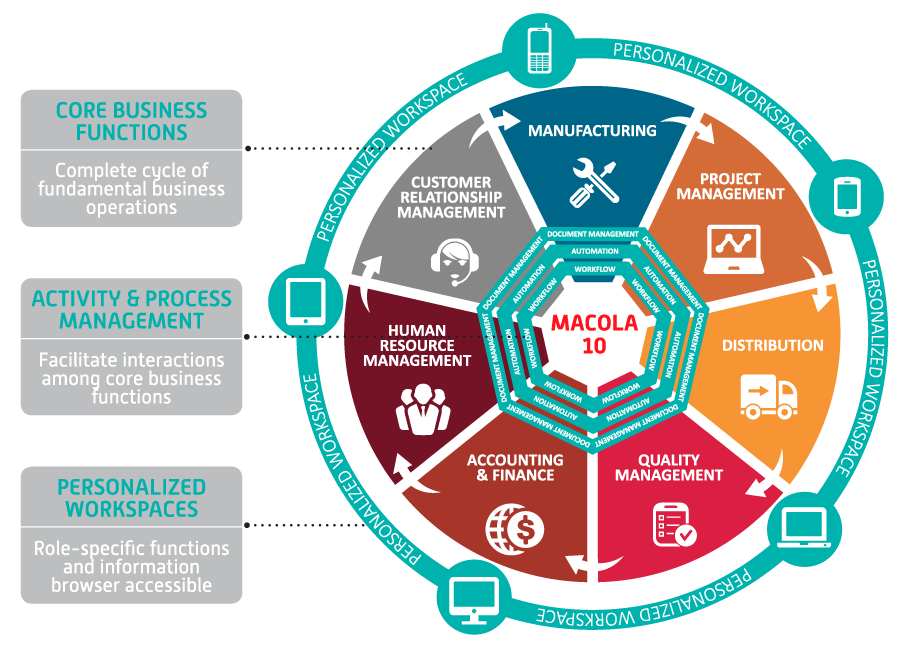 Macola 10
Increase the speed and accuracy of doing business in today's complex manufacturing or distribution environments and streamline operations like never before! With the new innovations available in Macola 10, you can easily configure your own workspaces at the user level – without the need for developers or consultants. Turn static data into consumable, usable information, set up business activity monitoring to automatically execute actions when triggers are met, and improve collaboration organization-wide with workflow, document management and customer relationship management capabilities – all included.
Manufacturing
The core competency of Macola 10 centers around solutions for manufacturers and distributors — across multiple verticals such as machinery, aerospace, automotive, food and beverage and electronics. Macola 10 delivers a low-cost, high-value software solution that fully enables you to keep your business strong, efficient and streamlined.
With the all-inclusive nature of Macola 10, you have all the tools you need to manage your manufacturing operation. Macola 10 functionality covers:
Bill of Material (BOM): Manages and analyzes the components and products your company produces. BOM's Visual Bill of Resource establishes the link between a single inventory item and the components that comprise the finished good.
Inventory Management: Manages the core of your distribution network through a comprehensive, integrated toolset that reliably controls and tracks not just inventory items, but inventory information.
Manufacturing Cost Accounting (MCA): Tracks actual costs and compares these actual costs to planned costs, yielding valuable variance analysis data. MCA is the primary source for linking accounting entries from shop orders to the Macola 10 General Ledger.
Master Scheduling: Makes a statement of what the company expects to manufacture. Master Scheduling reflects the overall, long-term production plans, taking into account the company's sales forecast, material availability and plant capacity.
Material Requirements Planning (MRP): Streamlines your manufacturing/warehouse operation and ordering, and ideal for the single-site manufacturing and multiple warehouse operation.
Production Order Processing (POP): Allows you to define numerous cost types to represent value added costs applied during production. Due dates can be tied to a manufacturing shop calendar, which manages days open for production.
Shop Floor Control (SFC): Helps to effectively execute your production plans at all levels, allowing quick and efficient shop order creation and order control without entering an excess of unnecessary data. With SFC, your company can manage all of the resources related to manufacturing and capture the detail to fully understand your costs and plant efficiency.
Standard Costing: Maintains cost for items manufactured in Shop Floor Control (SFC) and Production Order Processing (POP). Total material and value added costs for manufactured items can be easily determined based on the product structure as entered in the Bill of Materials (BOM) package.
Standard Product Routing (SPR): Standardizes manufacturing routings — the information that describes the path a product follows on the shop floor as it flows through the production process. SPR is oriented toward any make-to-stock manufacturer, but also has the inherent flexibility to be used in job shops where jobs tend to be similar to earlier jobs.
Distribution
Macola 10 provides easy-to-use distribution and inventory capabilities with fully-integrated financials — providing you with one source for tracking the health of your business.
With the all-inclusive nature of Macola 10, you have everything you need to manage your distribution operation at your fingertips. Macola 10 functionality covers:
Inventory Management: Ensures that there is enough of the right product in stock while avoiding stockouts and overstocks, and reduces investment in inventory while increasing inventory turns.
Order Entry (OE): Facilitates the order entry process by accepting orders and quotes, validating credit and calculating pricing. Order Entry also supports the picking and shipping process by recommending order lines, serial/lot/bins to be picked and generating shipping documents such as labels, packing slips and bills of lading.
Purchase Order (PO): Automates the processes associated with procurement by providing an efficient, time-saving solution to help ensure that the necessary materials, supplies and services are available when required.
Advanced Distribution: Allows you to run your business more efficiently and effectively by managing quality, product costs, customer returns and materials.Additional add-ons such as Electronic Data Interchange (EDI), Warehouse Management System (WMS), and Planning and Scheduling can further enhance your Distribution solution.
Accounting & Finance
With Macola 10, you have a complete, up-to-the-minute financial view of your company — has well as total financial control throughout the organization.
Macola 10 addresses every area of your finances so that you can take comfort in knowing that the financial side of your business is always in order.
Features include:
General Ledger: Manage the financial core of your business as efficiently as possible to improve your financial control, speed up decision making, minimize human error, and lower costs.
Accounts Payable: Ensure that there are no disruptions to the continued flow of raw materials, supplies and services into your company, and be in constant good standing with your vendors.
Accounts Receivable: Manage your customers' activity and credit to ensure high customer service levels, and maximize cash flow to achieve the highest level of performance.
Excel Add-ins: A dynamic link between Macola 10 and Microsoft Excel allows you to access overviews of your Macola 10 data in Excel without having to export it, and offers immediate, up-to-date, dynamic reporting capabilities.
Assets and Depreciation: Easily register and manage your assets, linking all asset movements to financial transactions and resources, and calculate monthly depreciations automatically for accurate budgeting.
Workflow Management
Customized Workflows
If actions and decisions inside a company are not aligned, processes are disrupted and competitive edge is lost. Macola 10 includes workflow management tools to help you organize and drive all of your internal business processes. Within it are contained all the activities, functions, physical documents, projects, customer orders, inquiries, sales call records, marketing events – every aspect of the business that is critical to achieving the organization's goals. Through workflow, each person in the organization knows exactly what is expected and when.
Increase Productivity and Reduce Redundancy
Every organization strives to execute their business processes to completion. However, today's economy and technologies only seem to have increased cycle times and requirements to the point where it is no longer obvious who is responsible for executing steps within tasks or projects. Macola 10 provides the workflow tools needed to model and standardize your business rules, enabling you to automate, manage and track manual and hidden processes on a secure, centralized portal.
By making individual workflows and corporate goals visible, an organization can spot redundancies and decrease errors while simultaneously increasing productivity. Macola 10 will enable you to take control of your processes within the workplace, allowing your company to communicate, collaborate, assure compliance and establish control. Only when a task has flowed through the required individual for approval can it then be considered completed. At any time, work can be viewed or remarked upon, and alerts can be generated in order to avoid bottlenecks and ensure follow-through.
Critical Business Issues:
Reduce Costs

Achieve efficiencies of business processes
Elimination of errors

Increase Productivity

Accountability and Transparency
Online processing across multiple departments & geographic locations

Mitigate Risk of Noncompliance

Complete Audit Trail
Validation ISO and GAAP reporting requirements

Increase Employee Satisfaction

Faster retrieval of documents
Role based visibility
Standardization of business rules

Improved Customer Satisfaction

Customer Portal Access
Faster response times to your customers
Reduce bottleneck

Increase Revenue

Faster time to market with new products
Efficient processing of revenue generating activities
CRM
Seamlessly integrate customer data across the organization into one database. Your clients, business partners, employees and vendors are automatically associated to one another and to all relevant and mission-critical business transactions.
The integration of all department processes allows you to capture the entire customer experience as it relates to you. The CRM functionality does much more than simply store, update and manage customer data. It provides the crucial information necessary to continuously cultivate the customer relationship. You can monitor, understand, manage and maximize sales performance, as well as leverage customer information into long-term customer loyalty and retention – anytime and anywhere from your web browser or mobile device.
Business Activity Monitoring
Business Activity Monitoring — included with Macola 10 — monitors your business data and automatically executes actions you define when triggers are met. With Business Activity Monitoring, you can solve challenges in every part of your business, leading to decreased costs, increased productivity, improved customer satisfaction and even higher revenue.
Business Activity Monitoring scans your internal operations — as often as once per minute — and can send email alerts, generate customized reports, update databases and even initiate workflows. It can even monitor multiple data sources at the same time and trigger multiple actions.
Even better, with Macola 10, the number of events you can define is limited only by your imagination!
Business Activity Monitoring saves money and recoups "lost dollars" by catching sales opportunities that would have otherwise slipped by, reducing receivable write-offs and increasing collections. Even in its simplest application — running reports on a regular basis — Business Activity Monitoring saves time and money compared to burdening your office staff. It also completes these tasks with greater accuracy, reliability and consistency than when performing manually.
Business Analytics
Business analytics puts power and functionality back into your hands by building information views from your multiple data sources or different business functions.
In addition to ad-hoc analyses, you can create personalized information views, graphs and reports that can be automatically distributed on a pre-defined schedule or accessed via the Internet:
All integrated query, reporting, and analytical tools shared throughout the organization are from a single, comprehensive user interface
Delivers management views and reports incorporating business metrics and key performance indicators
Integrates and displays data from any ODBC-compliant data source
Analytical Model includes pre-defined information views and report templates for both sales & inventory as well as manufacturing
Document Management
Having information fragmented across email, various shared drives, individuals' laptops, and even inside the minds and memories of your employees is at best counterproductive — and at worst can be disastrous for your company — resulting in security breaches and lost data.
This information needs to be captured, organized, and made available to the correct employees when they need it. Macola 10 allows all of your corporate information to be stored, shared, and accessed from one centralized repository. Everyone in the company will have the tools to more effectively find information, communicate, and collaborate with each other and with your customers. Not only is information stored, but it can also be associated with defined workflows — providing an automatic audit trail that translates into streamlined communication for a more productive and visible workforce.
Critical Business Issues:
Reduce Costs

Evolve to a near paperless organization

Increase Productivity

Automate uploading of documents
Eliminate manual retrieval and storage of documents
Document capture from scanning solutions
Integrated with Kofax Express

Mitigate Risk of Noncompliance

Linking of critical information and documents
Access and editing securing control over documents

Increase Employee Satisfaction

Faster retrieval of documents
Role based visibility

Improved Customer Satisfaction

Ability to access business critical documents
Reduce customer response times

Increase Revenue

Better utilization of space for more productive purposes
Significant reduction of retrieval costs
Business Process Management
As companies grow, one of the most challenging growth pains is the management of information. In Macola 10, we've included our document management, workflow, and CRM capabilities. Document management allows users to share documents and knowledge securely — in real time — from any location. With our workflow tools, the system can align all parties involved in a process, and automatically route tasks to the next person in the chain — eliminating redundant work and reducing overhead. Finally, the integrated CRM system allows users to store customer information centrally for easy access from anywhere and streamline customer interactions.
Document Management ensures that staff members can share documents in real-time and have the same up-to-date information at their disposal.
Customized Workflows allow you to customize the flow of internal processes and approvals — ensuring that requests, orders and anything else you choose follows a pre-defined (and auditable) path.
Customer Relationship Management (CRM) gives you a centralized database for up-to-date client details — including customer history, leads and campaigns.
Macola 10.6 New Release Highlights
WiSys Warehouse Management System (WMS)
Control and track the movement and storage of materials through your warehouse
Labor Tracking
Transform the way you manage your workforce, giving you the data you need and putting you in full control
Planning & Scheduling
Schedule and reschedule jobs based on exceptions, resources, priorities, what-if analyses, and changing customer requirements
Electronic Data Interchange
Streamline document transmissions, decrease paper costs, eliminate human data entry errors and reduce lead times